You like journalism. You like technology. And you like meeting smart people. So let me recommend you find your way to Washington, DC in October for the Online News Association conference and Austin next March for the South by Southwest Interactive conference.
The ONA conference usually sells out so get your ticket soon. If you don't want to spend the dollars for the ticket, consider volunteering to help and you'll get discounted (or free) passes.
If you've been reading this blog for a while, you know much I like the ONA conference. It's my favorite conference every year (and I've been to a lot of conferences).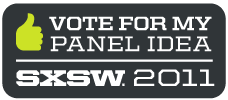 SXSW is "spring break for geeks" according to CNN. It's just a ton of fun, packed with information and thousands of really interesting people.
Last year was my first SXSW and I was blown away by the journalism presence. There were several panels focused on journalism and an impromptu meet-up I helped organize drew about 50 tech-minded journalists to a bar on a Sunday evening.
There are 49 journalism panels proposed. You can vote for your favorites here. I'm proposing a book-reading from my new book, which should be published by then. You can vote for my proposal here. (Many thanks, in advance.) And here's Poynter's roundup of 20 panels of interest to journalists.