Journalists in the U.S. are concerned for the future. Journalists in Baku are concerned for the present.
I'll be honest: When I received that first email almost a year ago from Terry Davidson at the U.S. Embassy in Azerbaijan, expressing interest in translating my book and having me visit the country, my first thought was "where the heck is that?" Azerbaijan is a former Soviet Union country near Georgia, just north of Iran, and Baku is the capital city, perched on the western shore of the Caspian sea.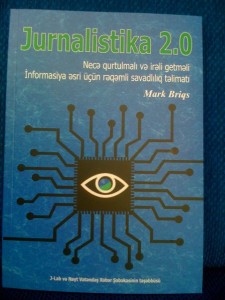 I'm here this week speaking to various groups of journalists and students. And tonight, I'll be attending a special "book launch" as the embassy begins distributing copies of Journalism 2.0 that were translated into Azerbaijani. (This is the fourth language for Journalism 2.0. Unfortunately I can still only read one.) Yesterday I spent three hours with a group of about 20 student journalists and another 3 hours with a small group of "A-list bloggers" from Baku.
The students are eager, ambitious and idealistic, just like the students I speak to in the U.S. Unlike their American counterparts, however, they have a much harder career path to travel since there really isn't an economic model for journalism in Azerbaijan. Advertising isn't really a factor in the media and the newspapers and TV stations here are tightly controlled by the government, which probably explains their tiny reach. In a city of about 2 million people, the largest newspaper has a circulation of about 3,000 7,000 (correction made 5/23/10).
A few groups opposed to the government have started their own newspapers and websites, but most are nothing more than political hit publications. There is almost a complete dearth of independent journalism in the country, but the students I met with are determined to change that somehow.
To a person, they all said their primary interest in journalism is social issues. In the U.S., student journalists are more focused on sports, music, food and travel journalism. We're lucky. When I mention this to the Azerbaijani students, they said they would like to do "fun" journalism but there are too many problems in their country to focus on such things.
The bloggers, meanwhile, are walking the walk. They report on corruption, human rights violations and other injustices in a country that is enjoying incredible economic growth due to a second oil boom. The money is being spent to spruce up downtown Baku (gleaming parks and shopping malls make certain areas of Baku measure up with more cosmopolitan cities in Europe) while basic infrastructure gets ignored, according to the people I've met. While we spoke, two of their friends sat in jail. They say it's because of a parody video they produced, profiled in this New York Times story. Apparently they're not the only journalists behind bars in this country, either.
So take a deep breath and appreciate your current situation as a journalist, whether you are looking for work or are currently unsatisfied with your position. It's still a powerful weapon that can affect real change. That's what the journalists in Baku hope anyway.