Editor's Note: Today's guest writer is Hilary Fosdal, who is the Interactive Content Manager for Barrington Broadcasting in Hoffman Estates, Illinois. You can read her blog at http://hilaryfosdal.com and follow her @hilaryfosdal.
By Hilary Fosdal
Many people are still trying to figure out what to do with Google Wave technology. Not the folks at the Chicago Tribune's RedEye. Every weekday at 10:30am CST, the RedEye blog dedicates 30 minutes to a live public Wave on trendy news topics.
On December 28, 2009 the topic of the Daily Wave was RedEye's Pop Person of the Year, Lady Gaga. Scott Kleinberg (aka Scottkleinberg72@googlewave.com) posted a public wave message at 9:51 a.m. that included the topic of discussion and a link to the RedEye's story 'Oh My Gaga' as well as a link back to the RedEye's 'The runners-up' .
The Chicago RedEye Twitter account (@redeyechicago), administered by Scott, also encourages readers to enter the online discussion by sending out a tweet or two announcing the Daily Wave topic.
Scott sets a conversational tone at the outset of this particular Daily Wave by writing "Sorry for my slowness – I'm eating a cookie." Google Wave participants begin entering the wave and discussing Lady Gaga even before the clock officially hits the half hour, but no one seems to mind.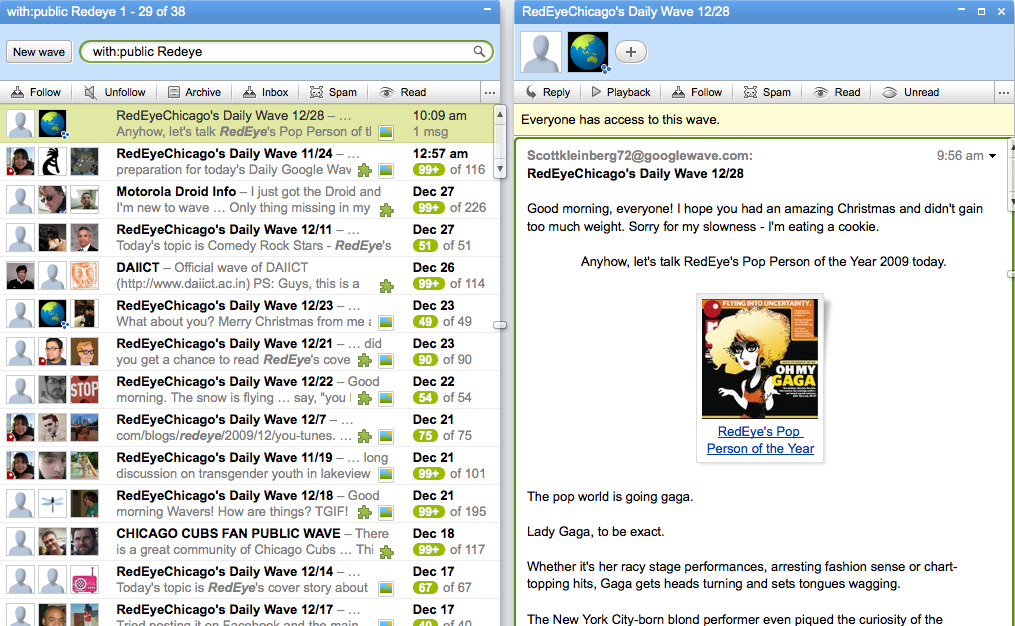 Comments come predominantly in the form of text. Why? Adding images, Wave gadgets, and embedding video players are considered advanced Wave features. Many Google Wave users' first complaint is that Google Wave is too complicated and rather unintuitive. However, the Daily Wave community is a friendly one and many participants are not afraid to ask fellow Wave users how to insert links to their favorite Lady Gaga song or photo.
A Wave occurs in a non-linear fashion with comments often being added above-the-fold of the most current window of conversation. A wave with a large number of people is much like being at one end of a long dinner table and trying to catch the conversation at the other end…awkward, lively and full of possibilities.
With each Daily Wave, RedEye connects with their readers and builds a sense of community. The RedEye is also demonstrating that is sees itself as more than a newspaper and more than a blog by embracing innovative technology that encourages a continuous and dynamic discussion about the news.
Robert Quigley, social media editor of the Austin American-Statesman has also held public waves with his readers.
"The challenge right now is keeping public waves on topic. If they get more than 50 blips discussion grinds to a halt," reported Quigley. He added that "in order for Google Wave to work during a news event, there needs to be the ability to moderate and/or easily spin something into another wave and link to it in the first wave to keep it on topic."
Will watching a reporter type in real-time become the equivalent to watching a television 'live' shot? Will multimedia journalism be delivered regularly in Google Wave? Will Google Wave become the new Twitter – the go-to place for news organizations to update breaking stories? Or will 2010 end with Google Wave still in beta?
Ready to evaluate Google Wave for yourself? We have several Google Wave invites to give away.
Leave a comment on how you or your newsroom would use Google Wave to enhance journalism. The best ideas will be published in a post and the winners will receive a Google Wave invite.
Related Links:
If you are interested in joining the Chicago Red Eye's Daily Wave and already have a Google Wave account type into the search box: with: public RedEyeChicago and the current date.
Feeling like Google Wave is too complicated? Read this guidebook for Google Wave users, written by Gina Trapani and Adam Pasch, The Complete Guide to Google Wave.
Also:
What's more complicated than Google Wave?
How Google Wave is Changing the News