Do a couple of self-proclaimed tech guys/news junkies stand a chance competing in a crowded online news media field? While it doesn't seem plausible, the digital age has made it possible. And sometimes, that's enough.
In Portland, Ore., the landscape is already crowded with stalwarts Willamette Week and the Portland Tribune and upstarts Portland Sentinel and Portland Mercury battling against the Oregonian and the local TV stations for the local news audience.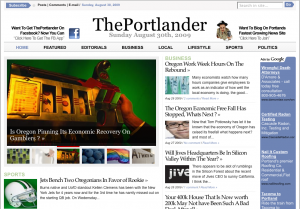 Enter ThePortlander. Somehow, without marketing or promotion, it's catching on, and catching the attention of the big boys.
Jeremiah Kastner and Jeff Martens have no experience in journalism. While the site has been around for some time, a retooled version has struck a chord recently with a growing local audience.Kastner implemented a clean, modern design in less than a week (try that at a news company) and launched it earlier this summer.
Like any good entrepreneurial endeavor, the motivation stemmed from personal frustration. Rule No. 1, after all, in starting a business is to fix your own problem.
"We were really getting frustrated with the local news options," said Kastner, whom I first met at Digital Journalism Camp Portland in August. "We are the demo we're going after. We are tech savvy which means we don't read printed newspapers – it's just not gonna happen. But we represent a huge demo rising up. We don't fall into the typical daily newspaper readership, but we don't go for the alternative press either."
Think about it: The average age for a reader of the Oregonian or a viewer of local TV news is probably pushing 60. The average age for alternative weeklies, with their focus on bars and live music, is closer to 20. That's a pretty wide gap for a new publisher to attack.
"It's  like a newspaper, but it's not," Kastner said of ThePortlander. "Nothing locally caters to Generation X or Y. I looked at what the Portland Mercury and Willamette Week were doing and said, 'they can do it, why can't I?'"
Kastner, who says he "know just enough about coding to be dangerous," retooled a WordPress theme to get the look he wanted a couple months ago. Now he and Martens aggregate links to local news stories and post original content as time allows. They are recruiting local bloggers (10 have signed up so far) and looking for college journalism students as interns to help the operation grow.
They have already struck are negotiating a partnership deal with the Oregon Entrepreneurs Network and are in talks with the Oregonian about a potential collaboration, too. while it takes 12-15 hours a day to keep the site updated (it's almost 50% original content, 50% cross-posted), the goal is to grow advertising revenues to support 6-8 people.
Technical innovations include an automatic process that posts links to new content on dozens of social networks. And ThePortlander released a functioning Facebook application last week, too.
"Here we are, no experience in journalism and we're building a news site that is starting to rock the boat in Portland," Kastner said. "When I look at big newspaper sites, it amazes me they're having such a big problem."
Granted, ThePortlander has a way to go catch up to the alternative weeklies, not to mention the big players in town. But there early success suggests there is still room in most cities and towns for new entries in the digital news landscape.
Expect to see similar flowers blossom in the coming months and years.
NOTE: The post was updated to reflect the new ratio of original vs. aggregated content (now 50/50), the number of community bloggers who have signed up (now 10), and the fact that the OEN partnership is still in discussion.