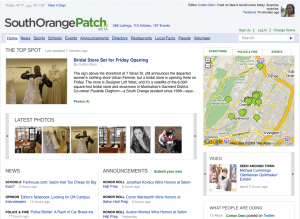 In case you wondered what a local news site developed by Google would look like, wonder no more.
Google executive Tim Armstrong's "secret plan to save the local news business" hit public awareness last night in a post by Valleywag titled At Last, Google Funds a Bailout for Reporters. While Armstrong works at Google as head of their advertising operations, Patch is actually powered by Polar Capital Group, Armstrong's private investment company.
Patch, which has 20 employees and a plan to hire one journalist in every town it expands to, is now available only in 3 towns in New Jersey: Maplewood, Milburn and South Orange.
Gawker wonders whether Patch could be a Trojan horse for Google to get into the local news business? While it's unlikely there are explicit plans, the lessons learned by Armstrong and Patch will naturally make their way into the thinking in Google's local products group. (It's a larger scale of what MSNBC's Cory Bergman is doing with his independent newsblog MyBallard.)
Phil Meyer, my former professor at UNC-Chapel Hill, and Jeff Jarvis are on the editorial advisory board, so the New York City-based team is getting good advice. (More information and players here.)
However it evolves, Patch is yet another drip into the growing pool of entrepreneurial journalism enterprises. With Google money behind it, though, this drip is bound to make a bigger splash.