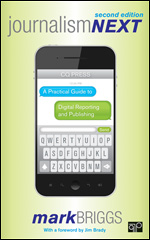 In case you haven't noticed, anything related to technology, communication and journalism changes pretty fast these days. That's certainly one of the biggest challenges of writing a book about these topics.
With that in mind, I'm happy to report that a new version of Journalism Next is now available.
Originally published in 2009, in the days before Instagram, Pinterest, iPads and Kindle Fires, Journalism Next was adopted by college classroom and snapped up by mid-career professionals on Amazon.com. The 2nd Edition has tons of great new material, including contributions by Digital First's Jim Brady, NPR's Matt Thompson, CNN's Lila King and Meg Peters of Mashable.
It's now available at the CQPress website or Amazon.com. Educators can request a review copy if you're considering adopting it for your course and the Kindle version will be coming along soon.