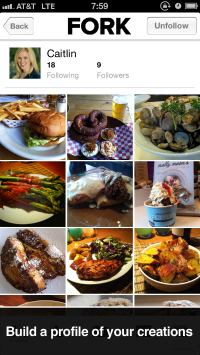 As you know, I love a good side project. I started writing my first book, Journalism 2.0, while I was running the website of the The News Tribune in Tacoma, Wash. and, somewhere in the process of setting the alarm for 5 a.m., I formed a habit. Ever since, I've had a side project of one kind or another (a startup company, two more books, a fellowship at Poynter) and I'm happy to announce my latest: Fork, an iPhone app for sharing food photos with friends. (Here's a demo video one of our beta users made.)
The original inspiration, as I told Jenni Hogan yesterday, came from my daughter, Ellie, who was 9 at the time. I'm a single dad and she and my son, Sam, call my house "Dad's Steakhouse" because, well, I apparently make a lot of steak. One night she created a restaurant "sign" out of a Post-It Note and put it on the wall behind where we eat dinner. Then she added a new note for every dinner I served that week and a column for her and her brother, where they added their comments about what I'd made each night. (The original name of the project in my computer is "KidYelp.") So after a few days I had a wall full of Post-It Notes with information and ideas about what to make for dinner – and what my kids liked. I thought, "I wish I had that on my iPhone."
And, of course, food is done best with photos. So I approached a couple friends who I'd worked with before who are amazing at development (Scott Falconer) and design (Lauren Rabaino). And since they both love food and sharing food photos, we started working on it.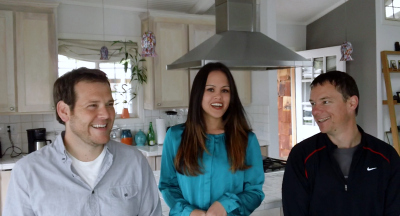 Turns out, making an app is hard work (and I didn't even do any of the coding). Keeping it simple, clearly focused and easy to use means making a lot of tough decisions before doing any programming or design. And then making more tough choices as you go. Since I occasionally teach entrepreneurial journalism workshops focused on turning an idea into a product, this has been a great learning experience and given me a real-world test on those lessons I teach.
As I've said since writing it in my first book, ideas are cheap and execution is everything. I first had the idea for this app about 18 months ago, but only through the contributions of Scott, Lauren and a bunch of other people smarter than me did the idea finally come to life this week.
If you have an iPhone and you like food (and have friends), I invite you to download Fork and check it out. Please let me know what you think and how it could be better. We have already benefited from the feedback of dozens of friends who helped us work out some bugs on earlier versions, but as with any entrepreneurial endeavor, you have to continue to adapt to the needs of your users.
Some of those early test users have told me that they actually cook more interesting meals and eat better because of Fork. We have discovered that it's gratifying to share food stories with friends and it turns out that it's also motivating. If people who use the app find more happiness through food, that would be awesome.
And make all the 5 a.m. mornings and late nights even more worthwhile.